by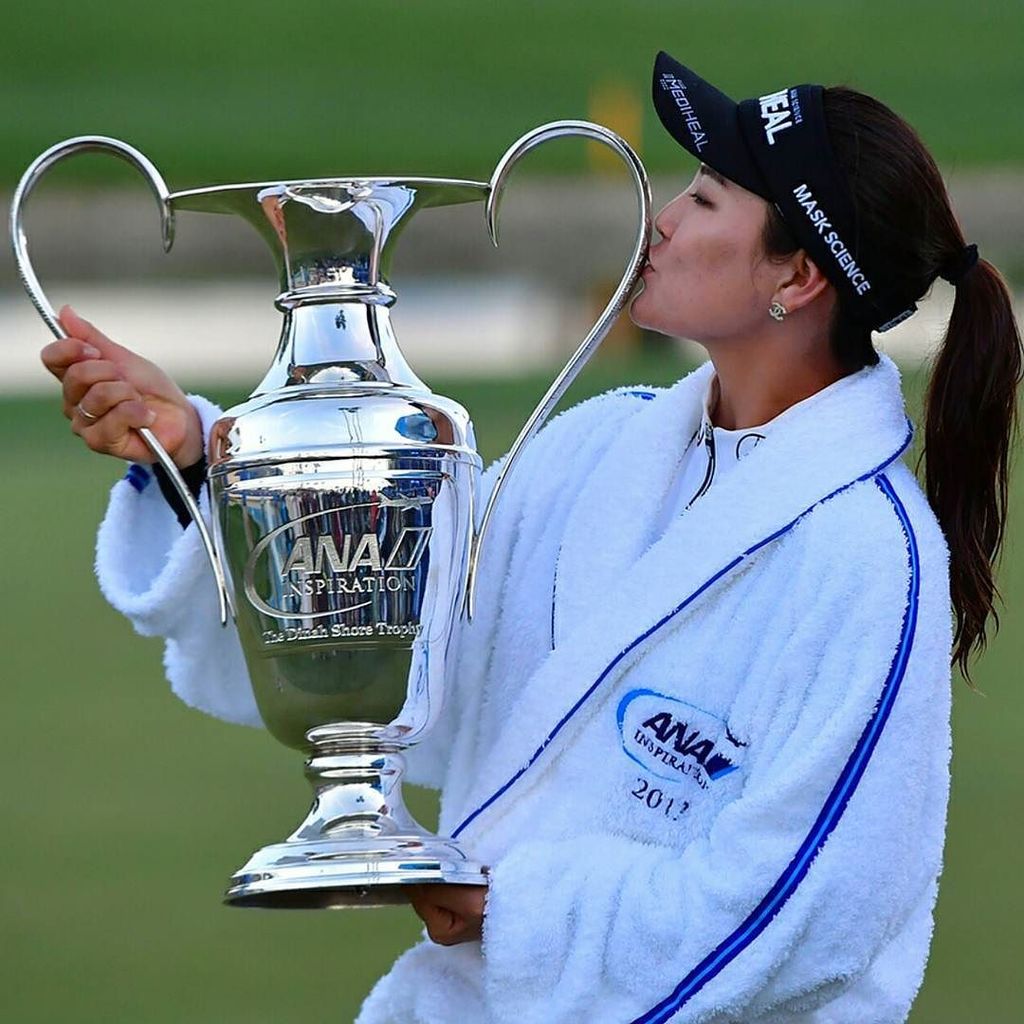 The first LPGA major, the ANA Inspiration (formerly the Dinah Shore Classic), is usually one of my favourite events to watch.  It is usually very competitive, and typically comes down to the final hole where players can make anything from eagles to double-bogies. It also happens to have one of the best victory traditions in all of sport, where the winner (and her caddy and friends) take a leap into Poppy's Pond next to the 18th green.
https://twitter.com/ANAinspiration/status/848716899483619335
This year the tournament was marred by a controversial penalty called on Lexi Thompson, which turned what looked to be a runaway victory for Lexi into a fight to the finish where she lost in a playoff. The ANA Inspiration was just not inspirational.
The penalty in question was submitted via e-mail (apparently) and took place during the Saturday round. During the final round, the e-mail was sent and Lexi was informed of the penalty while playing the 12th hole.  The penalty was 4-shots.  Two shots for incorrectly replacing her ball on the putting green after marking it, and two shots for having signed an incorrect scorecard.  She went from having a 2-shot lead in the final round to being 2 back.
This tweet may show when the penalty took place:
Wow RT @golf_com Video of @Lexi's apparent rules infraction yesterday. #ANAinspiration. pic.twitter.com/89VYzbhw0d

— ️ (@corioz) April 3, 2017
Based on the video evidence, Lexi appears to have replaced her ball in a slightly different spot than she picked it up from. Paul Goydos tweeted that this "rule is broken every time a ball is marked", as it is impossible to replace a ball to the exact position that it was picked up from.
That rule is broken every time a ball is marked

— Paul Goydos (@PaulGoydosPGA) April 3, 2017
Did Lexi break a rule? Apparently yes.  Does she deserve to have a 4-shot penalty placed on her 24 hours later?  No.  She deserves, at worst, a two-shot penalty for incorrectly replacing her ball on the green.
Many feel that viewers or spectators should not be able to call in rule violations. Does a player deserve to go unpunished, and win, when they are seen to have violated the rules? Personally, I think it would be worse to have someone break the rules and go unpunished and win, than have what happened Lexi today. "Getting away" with breaking a rule and winning is not what golf is about. I have no problem with viewers calling in rules infractions, as it is done. However, maybe there needs to be a statute of limitations.  If the Golf Channel replays the 1997 Masters and I see that Tiger Woods repaired a spike mark and not a ball mark, or his ball moved slightly on the green and he didn't notice and then putted it, can I call in and have Tiger disqualified 20 years later? I think any penalties submitted by viewers need to be enforced before the player signs their card after the round where the penalty took place.
Regardless of the outcome of this, as to how the rules might be changed or enforced, there will be problems. Sorry for the rambling, but I don't know if there is a truly right answer to how this needs to be handled.  Whichever side if the issue you're on, the other side can say it's not fair (i.e. if it came to light that Lexi had broken the rules and not been punished, would there not be outrage the So Yeon Ryu had the tournament stolen from her?).
Lexi handled it with class, and birdied the final hole to force a playoff, which Ryu won with a birdie on the first hole.  And where was Lexi while Ryu was doing her victory leap?  Signing autographs.  That's a champion.
After going through an athlete's worst nightmare, what does @Lexi Thompson do? She stops & signs autographs for fans. #class #ANAInspiration pic.twitter.com/GFMlq6nHZt

— Lisa Cornwell (@LisaCornwellGC) April 3, 2017
After today, I think it's fair to say that the golf gods owe Lexi Thompson.
UPDATE –
Found this statement from the LPGA posted on twitter:
The LPGA's official statement regarding the #LexiThompson penalty. What a heartbreaking loss for @Lexi ! #ANAInspiration #LPGA #Golf pic.twitter.com/ysg5fElqeP

— Will O'Donoghue (@Will_ODonoghue) April 3, 2017