by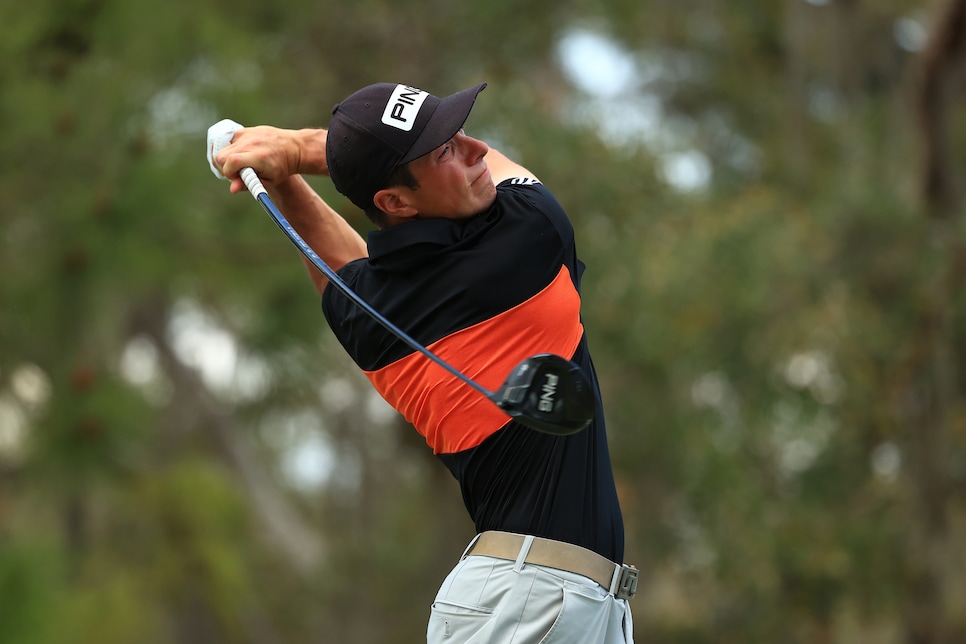 Have you ever had a good round going and then struggle to get it into the clubhouse? Viktor Hovland came to his final hole on Friday only 2 shots behind the leaders, but then broke the cardinal rule of golf by following one mistake with another and another, en route to a quadruple bogey finish.
Here he is trying to escape the brush behind the green, after blading his approach from the fairway bunker.
Thru 17 holes, Viktor Hovland was -7 and two shots back of the lead.

On 18, he would quadruple bogey to finish six shots behind the leader.

Golf is hard. pic.twitter.com/D3GsUrC5w3

— PGA TOUR (@PGATOUR) February 26, 2021
Here is his shot track. A little bit of a back and forth going on there.
A really nice one-putt from Viktor Hovland to end the day. pic.twitter.com/u0Tq9fhNb4

— Brandon Gdula (@gdula13) February 26, 2021
Here is his card.  One of these things is not like the others.
Viktor Hovland smiling after taking a quadruple-bogey 8 on his final hole. I strive for this level of positivity. pic.twitter.com/iVmf54GZdX

— Jeff Eisenband (@JeffEisenband) February 26, 2021
To his credit, Viktor handled with his disastrous finish quite well.
https://twitter.com/HovlandTracker/status/1365567729760038915